Cornrow braids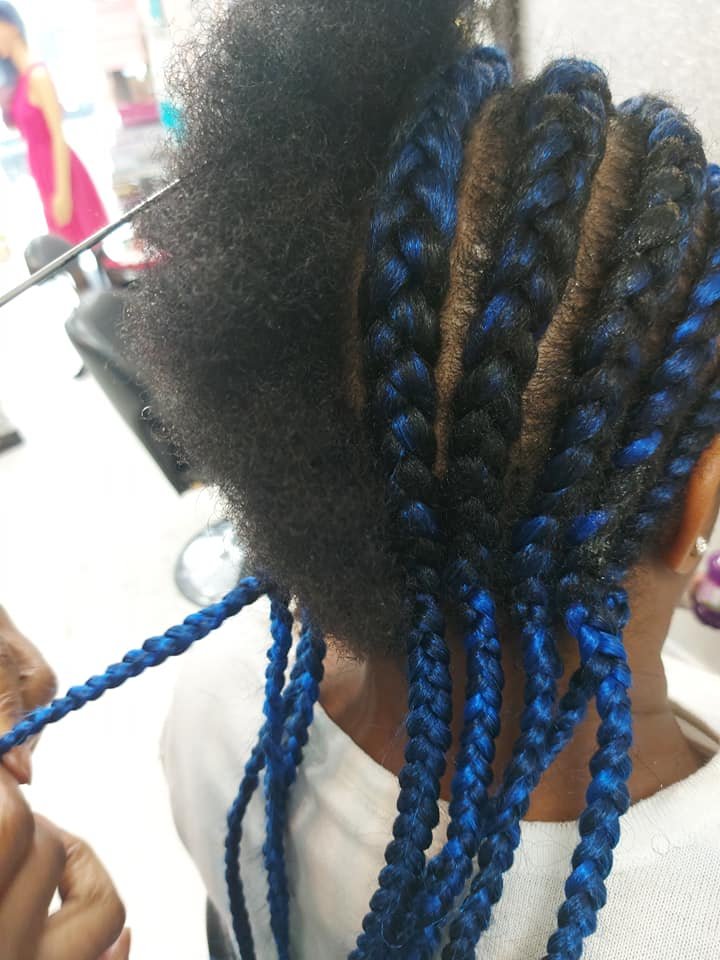 Cornrow (aka canerow) is a style of braiding (aka platting) which originated in Africa, tens of thousands of years ago. Despite this, cornrows and other braiding styles have grown hugely in popularity within European hair types since around the 1970s. The hair is braided very close to the scalp in continuous raised rows and made to "tame" lengthy, unruly hair. Glossy Locks' hair stylists have adapted modern day styles ranging from small canerow braids to feed-ins with cuff beads. Our style of Ghana braids and cornrows with coloured strand extensions will make your hair look equally as stunning. Canerows can also be combined with other braiding styles such as box braids or Senegalese twists.
Box Braiding
Box braids is a modern braiding style which is growing in popularity amongst Afro hair stylists and looks just as spectacular on all hair types. It mainly consists of square shaped hair patterns and are super stylish. Box braids are also great for protecting your long, natural hair from breakage. This style can
also be used on short hair by using hair extensions. They come in a wide range of lengths, sizes and colours and styled as twists, pony tails, buns and more. Glossy Locks Hairdressers highly recommend using of hair moisturizer daily whilst box braids, or any braiding styles are worn.
Knotless braids are a newer style of box braiding which is also decorative and protective of both hair and scalp. The look of knotless braids appear as though the hair is growing out of your scalp. They differ to box braids because small amounts of hair are added to the braid as you go along. This method also creates less tension on the roots and is therefore less painful to your scalp.
Senegalese Twists
Senegalese twists (aka rope twists) are similar to Crochet and natural looking Marley twists, with Senegalese consisting of thinner braids. Crochet twists are larger than Senegalese twists whereas Marley twists being the largest out of the three. Worn either straight or curled, they can be styled in a wide range of lengths, colours and thickness. Cuff beads, rubber bands and hair clips are just some of the popular items used to styling and decorative purposes. This braiding style is one of the most protective hairstyles for natural hair.
Originally from Senegal in West Africa, these extensions are made from synthetic fibre and delivers on that soft touch feel. They are easier to install than box braids because the brands stocked by Glossy Locks come pre looped.